Event
First international symposium (Sustainable Society Design Center) Towards sustainable and inclusive society: Visualizing diverse values of Nature
Release:

Sep 1, 2022
Update:

Sep 12, 2022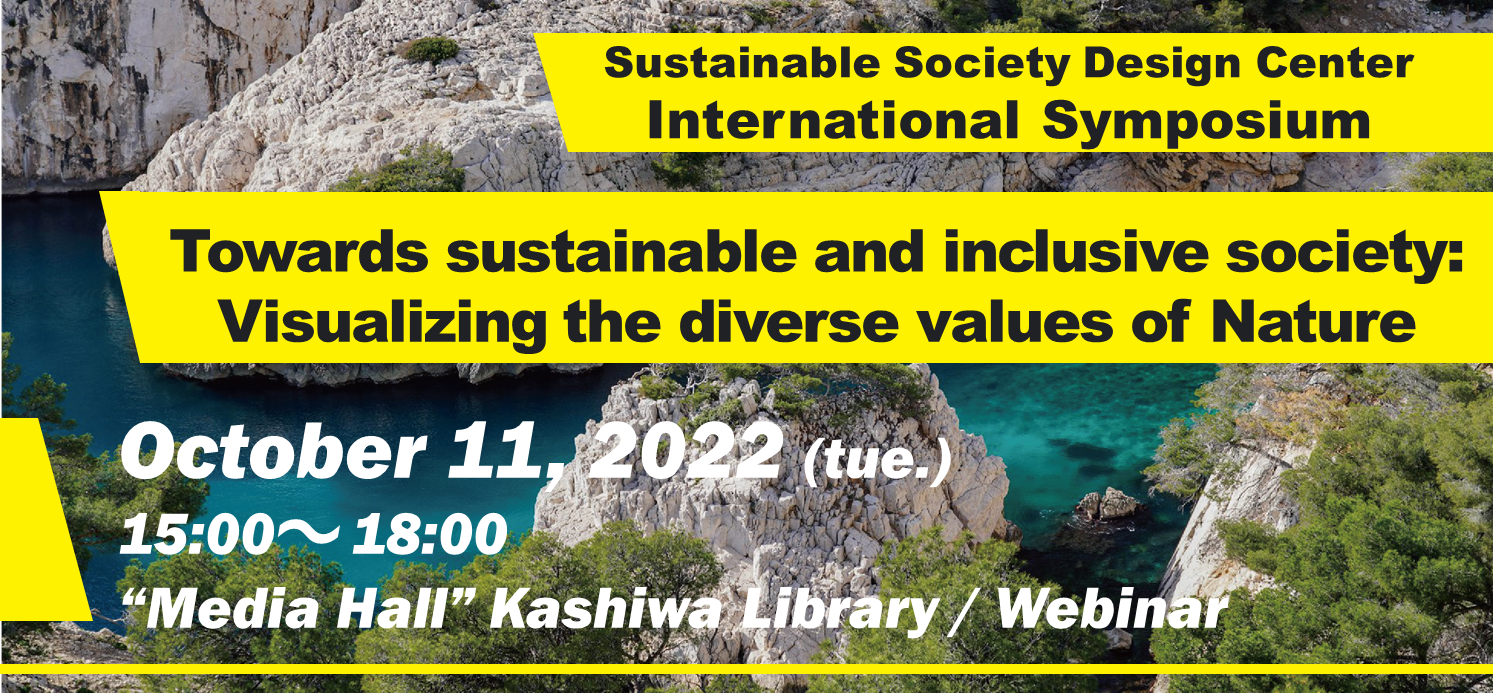 Purpose of the symposium
Our society is heavily dependent on various contributions from nature (such as food, timber, etc.) which are traded in markets. However, the value of nature is not limited to these monetary values. There are multiple and complex values to nature. For example, water purification provided by wetlands is not something that is traded on the market. But our society reaps the benefit, i.e. the good quality water. Furthermore, we cannot put dollar signs to all the values provided by nature. People, at times, refuse to put a monetary value on the forests that are deemed to be sacred. They consider it is not 'right' to trade something sacred on the market. In order to emphasize these diverse and complex values of nature, IPBES, the Intergovernmental Science-Policy Platform on Biodiversity and Ecosystem Services, has produced the Values Assessment Report in 2022.
At the same time, in Japan, there are communities where local stakeholders use these diverse and complex values of nature to attract stakeholders and achieve local sustainability. These measures are especially important as many rural communities are ageing, and their populations are decreasing. In this symposium, researchers involved in the preparation of the IPBES value assessment report and the Japanese stakeholders who are involved in the regional revitalization are invited. It will discuss how we can build a sustainable and inclusive society by finding the junction between the scientific evaluation of diverse and complex values in the international arena and the practice of regional revitalization in Japanese regions.
Date
Tuesday, 11th October 2022, 15:00-18:00
Venue
Media hall, Kashiwa Campus and online
Language
Japanese / English (simultaneous interpretation)
Fee
Free
Application

An advance registration is required.
Registration
*Participation in the venue is limited to members of the University of Tokyo (students and faculty members). If the number of participants exceeds the first 50, or if the event is held online only due to the spread of the new coronavirus infection, URL for online participation will be informed.

Organizer
Hosted by Sustainable Society Design Center (SSDC)
Co-hosted by Graduate School of Frontier Sciences (GSFS), The University of Tokyo (U-Tokyo) / Tokyo College
Program
15:00
Opening Remarks
Kaori HAYASHI (Executive Vice President, U-Tokyo)
15:10

Introduction of SSDC
Yasuko KAMEYAMA (Director, SSDC)

Aim of this symposium
Mayumi FUKUNAGA (Associate Professor, GSFS)

Part 1: Visualizing complex and diverse values of nature: From IPBES to National Ecosystem Assessments (NEAs)
15:20

Keynote Speech
Unai PASCUAL (Ikerbasque Professor, Basque Climate Change Center)

15:40

Presentation 1
Rachelle GOULD (Associate Professor, University of Vermont)

15:55

Presentation 2
Hiroe ISHIHARA (Associate Professor, SSDC)

Part 2: Enhancing the sustainability of local communities through complex and diverse values of nature: Case from Japan
16:25

Presentation 1
Jun MIZOGUCHI (Deputy Mayor of Ikeda-Cho)

16:45

Presentation 2
Makoto UMEBARA (Representative, Umebara Design Office)

17:10

Part 3: Discussion
Discussion includes the presenters mentioned above and the following people.

Facilitator:
Mayumi FUKUNAGA (GSFS)


Takashi MINO (Deputy Director, Tokyo College, U-Tokyo)
Hiroyuki KAMII (Executive Adviser, National Graduate Institute for Policy Studies)
Shizuka HASHIMOTO (Associate Professor, Graduate School of Agricultural and Life Sciences, U-Tokyo)
Yuki YOSHIDA (Researcher, National Institute for Environmental Studies)

17:50

Closing Remarks
Atsushi DEGUCHI (Dean, GSFS)
Moderator: Runsen ZHANG (Associate Professor, SSDC)
Please note that the above program is tempraly scheduled.
Download poster