Honors & Awards
Ms. Yamaguchi Won the Best Student Paper Award at the World Archaeological Congress
Release:

Jul 19, 2022
Update:

Nov 11, 2022
Ms. YAMAGUCHI Haruka in the Department of Integrated Biosciences, the Graduate School of Frontier Sciences won the Best Student Paper Award at the World Archaeological Congress (WAC-9) held in Prague, the Czech Republic from July 3 to 8, 2022.
The Title of the Awarded Presentation:
Macronutrient-based model using carbon isotope ratios in dentine collagen and enamel carbonate reveals millet consumption by prehistoric Japanese populations (YAMAGUCHI Haruka, KONDO Osamu, SHITARA Hiromi, TOIZUMI Takeji, WEI Dong, SUGIYAMA Cohe, YONEDA Minoru)

Since cereal consumption was revealed by isotope analysis conducted on human bones and teeth, distinguishing grain from marine shellfish, which have the same carbon isotope ratios, has been the next research issue to tackle. Her group developed a macronutrient-based model focusing on respective nutrient compositions and used it to analyze human teeth and bones unearthed from the remains of the period between the last stages of the Jomon Period and the late Yayoi Period in the central highland of the west Kanto region. They succeeded in detecting millet and suggested that millet consumption may have accounted for approximately 20-60% (on a dry weight basis) in the ancestral human diet.
Comments from Ms. Yamaguchi:
I am honored that the outcomes of the research on millet consumption in the period between the last stages of the Jomon Period and the late Yayoi Period in Japan and the comparison to grain consumption in the Chinese Neolithic period were recognized by archaeologists from other countries. Encouraged by this award, I will farther devote myself to research and submit papers to academic journals.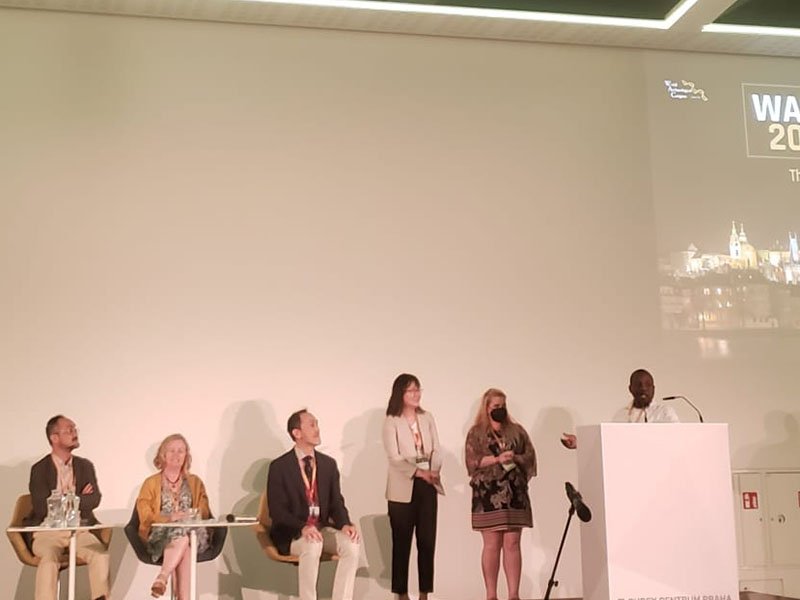 Ms. Yamaguchi at the WAC-9 award ceremony